Fresh Strawberry Mojito Recipe
Mojitos are the perfect summer cocktail; they are light and refreshing, minty, tart, and sweet all in one. As fresh strawberries come into season and we get our first days of warm weather, it's the perfect time to try this fruity twist on traditional mojitos!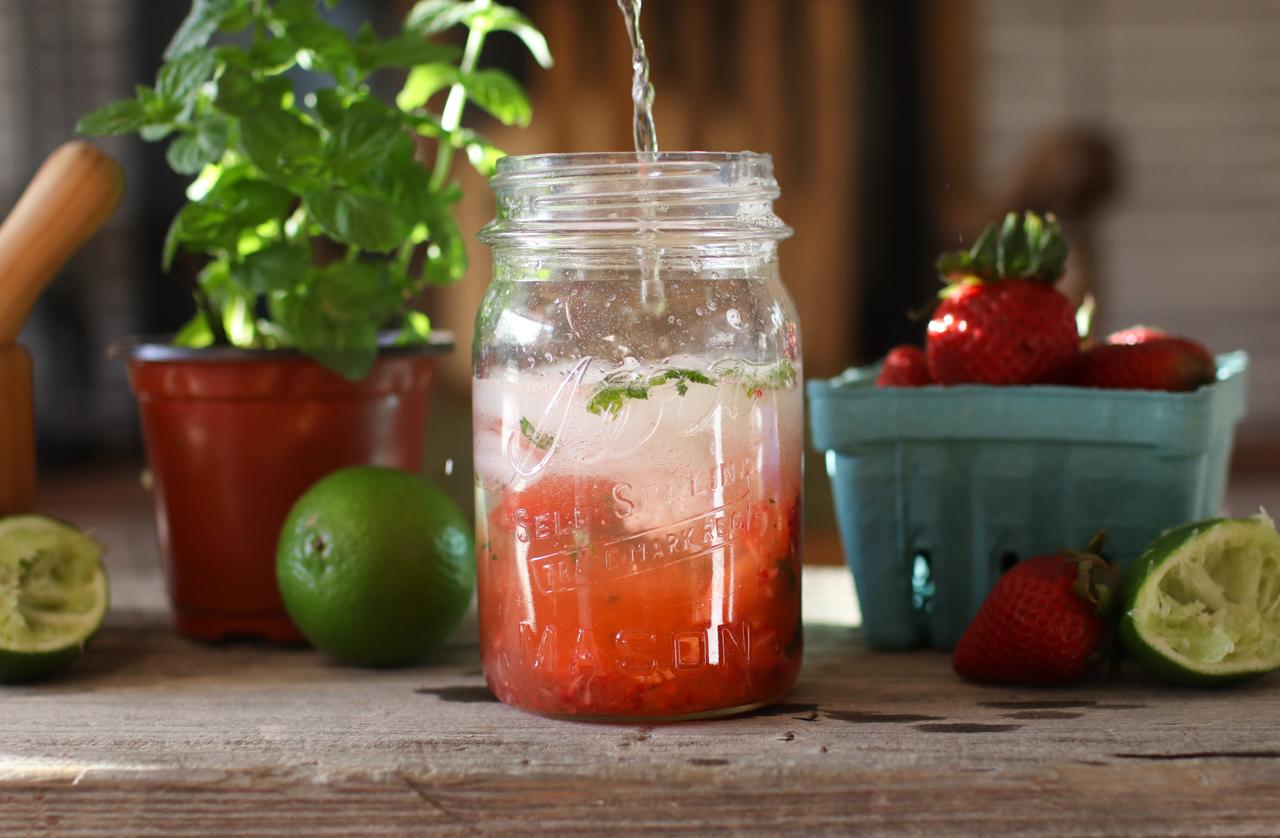 This easy strawberry mojito highlights three beautiful seasonal ingredients in one refreshing package: strawberries, lime, and mint. The strawberries give it a sweet flavor while the fresh limes bring a tartness that is balanced with the mint.
This drink comes together in just a few minutes, yet it feels fancy for a special happy hour or relaxing summer evening outside.
How to Make a Strawberry Mojito
Combine chopped strawberries and mint in a cocktail muddler, or a jar with a spoon. Muddle thoroughly with the muddler or the back of the spoon to release the strawberry juice and mint oil. 
Pour the strawberry mixture into a cocktail shaker and add rum and simple syrup. Juice the limes and add the juice to the cocktail shaker. Shake well.
Assemble two 16-ounce glasses. Empty the contents of the cocktail shaker into the glasses, putting equal portions into each glass. Take the lid off of the shaker rather tha using the strainer so that the mint and strawberries end up in the glasses.
Pour seltzer water into the glasses until they are ¾ filled. Add ice to the top of the glasses.
Garnish with lime slices, strawberry slices, and a sprig of mint.
This post contains affiliate links. If you make a purchase through the links, I will earn a small commission at no cost to you. As an Amazon Associate, I earn from qualifying purchases. Read my full disclosure here.
Alterations for Strawberry Mojito Cocktails
This refreshing cocktail is perfect as is, but it's always fun to get creative in the kitchen. Here are a few ways you can spice up your strawberry mojito:
Use flavored seltzer water instead of plain
Substitute the rum with another white liquor, such as gin or vodka
Try different fresh berries, such as raspberries or blackberries in place of the strawberries.
Get adventurous and use a different herb, such as fresh basil or rosemary, for this cocktail.
Make it a strawberry mojito mocktail by omitting the liquor and substituting more soda water. You may want to add more sugar syrup to suit your preferences.
Cocktail Tools and Equipment
None of this is absolutely necessary, but if you find yourself regularly making a mixed drink, these make the process a lot easier!
How to Make a Pitcher of Strawberry Mojitos
This easy strawberry mojito recipe is perfect for hosting! You can make the simple syrup far in advance and even juice the limes the day before.
To make the a strawberry mojito pitcher, follow the below recipe. Make the cocktail directly into the pitcher and stir well with a long spoon to combine.
If you are not serving the cocktails immediately (i.e., a party where guests will help themselves throughout the evening), I recommend omitting the seltzer water and ice and leaving them on the side to add to individual glasses as they are being served.
This recipe yields a one-gallon drink dispenser (about 10 cocktails), including seltzer water but not ice.
Ingredients
5 cups of fresh strawberries, chopped
10 sprigs of fresh mint (about 8 leaves each)
Juice of 10 limes
10 ounces simple syrup
20 ounces white rum
Soda water (about 60 ounces)
Additional lime slices and strawberry slices for garnish
Instructions
Add the strawberries and mint to the bottom of a pitcher or drink dispenser and muddle with the back of a long wooden spoon.
Add the lime juice, simple syrup, and rum. Stir well with the wooden spoon.
Add the soda water, lime slices, and strawberry slices and stir gently.
Serve into glasses with ice and garnish with a sprig of mint (optional).
Looking for more spring and summer drinks? You'll love this Blueberry Matcha Latte!