Simple Fresh Raspberry Margarita Recipe
This delicious raspberry margarita is refreshing, fruity, and so easy to make. Perfect for hot summer days and festive parties, you'll love this drink both frozen and on the rocks!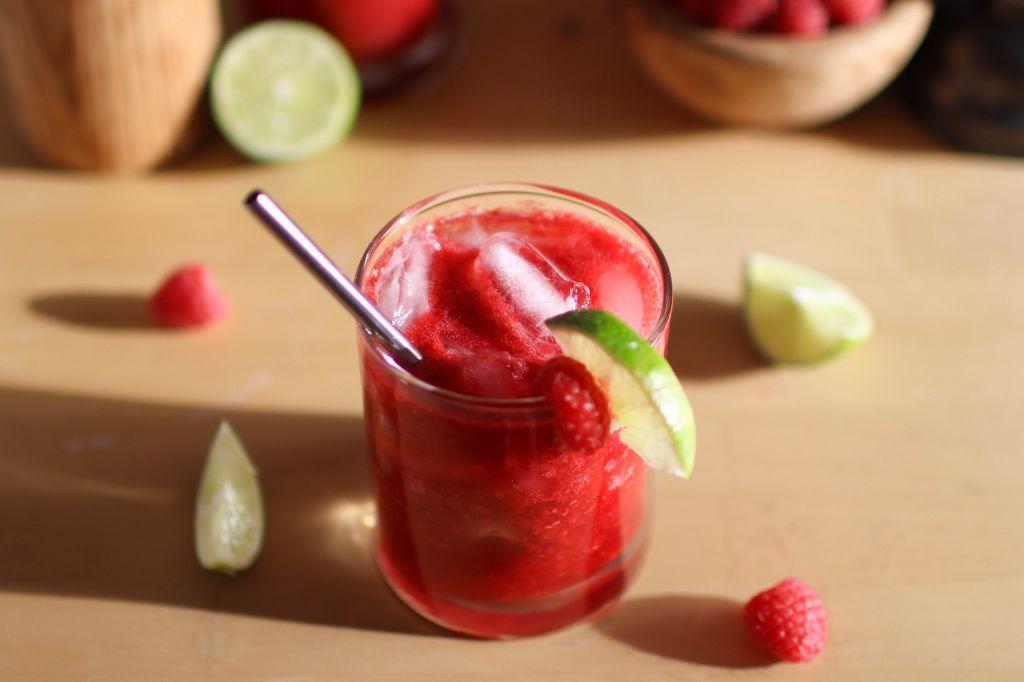 Summer is such a sweet time, especially in the kitchen. The counters are filled with garden vegetables, the windows are wide open, and – best of all – fresh berries are in season. Berries are a long-awaited seasonal food in this house, so when they are finally in season, I go all out.
That's why this delicious raspberry margarita is my new favorite cocktail! It adds a summery, fruity twist to a classic refreshing beverage.
Try it frozen and on the rocks – both are magical.
Why You'll Love This Recipe
Simple ingredients: I love a cocktail with simple ingredients that I already have on hand. No need to have an elaborate cocktail bar or fancy ingredients to make this delicious recipe!
It's customizable: Make this margarita just how you like it! Virgin, extra strong, honey-sweetened, and more. You can make it exactly how you like it; this cocktail is very forgiving.
Perfect for hosting: With its lovely pink hue, fresh ingredients, and easy pitcher recipe, this is a recipe for all of your parties and happy hours! This fruity margarita is sure to be a crowd-pleaser. It is also a delicious mocktail when the liquor is omitted.
This post contains affiliate links. If you make a purchase through the links, I will earn a small commission at no cost to you. As an Amazon Associate, I earn from qualifying purchases. Read my full disclosure here.
Raspberry Margarita Ingredients
Raspberries: Both fresh raspberries and frozen raspberries work beautifully in this recipe.
Fresh lime juice: An essential for a delicious, fresh flavor in your margarita. Always opt for fresh-squeezed over bottled when it's possible.
Tequila: I use tequila blanco, but tequila reposado is also a great option.
Triple sec: You can substitute another orange liqueur or even go for a raspberry liqueur, like Chambord.
Simple syrup: Adds sweetness to balance out the tart lime! Learn how to make your own below.
How to Make Simple Syrup
It is so easy to make your own simple syrup, there is no reason to buy a bottle! Here's how to make a batch to keep on hand:
Ingredients
Instructions
Combine white sugar and water in a small saucepan and put it on the stove on medium heat.
Simmer until the sugar fully dissolves and the liquid starts to thicken. This will take about 10 minutes.
Remove from heat and allow to cool before storing it in a jar or bottle.
How to Make a Pitcher of Raspberry Margarita
There's nothing like a pitcher of margaritas to make a party more festive! Share the love with all of your friends and whip up a big batch to share. Everyone will love it.
For pitcher margaritas, I usually opt for margaritas on the rocks because they keep longer and are easier to make in larger quantities.
For the best flavor, make the drink without ice and add the ice to each glass as they are being served. That way, you don't have to worry about the ice melting and making your margarita taste watery.
To make frozen margaritas in bulk, I recommend having the pitcher ready and blending it with ice in smaller batches to serve immediately. Frozen margarita does not store well.
Ingredients
1.5 cups tequila blanco
4 ounces triple sec
4 cups raspberries (frozen or fresh)
8 ounces fresh lime juice
4 ounces simple syrup
​Sea salt
Ice
Instructions
Combine all of the ingredients, except the salt and ice, in your pitcher.
Muddle the raspberries very well, then stir the ingredients to thoroughly combine.
Prepare the glasses with a salt rim. Dip the rim of the cup in a dish of lime juice, then dip it in a dish of salt.
Add ice to each glass, then pour the margarita in. Garnish with a lime wedge and fresh raspberries.
Variations
Sugar rim: If you aren't a fan of the classic salt rim or you simply want to try something new, give your drink a sugar rim instead! Follow all the same instructions but substitute sugar for the salt.
Blackberry margarita: Why not try all of the berries while we're at it? You can make this same recipe with blackberries instead of raspberries to mix it up.
Lemon juice: Give your drink a unique twist by using lemon juice instead of lime juice.
Agave nectar: Go for a more traditional margarita and use agave nectar instead of simple syrup.
Equipment
Cocktail Shaker (for on the rocks)
Muddler (for on the rocks)
​Blender (for frozen)
Cocktail glass
Measuring cup or jigger
More Delicious Cocktail Recipes