Best Blackberry Bourbon Smash: Whiskey Cocktail Recipe
Make happy hour special with this blackberry bourbon smash! This refreshing cocktail is the perfect drink for late summer. With sweet blackberries, oaky bourbon, and just a touch of lemon and mint, this well-balanced drink is a crowd-pleaser.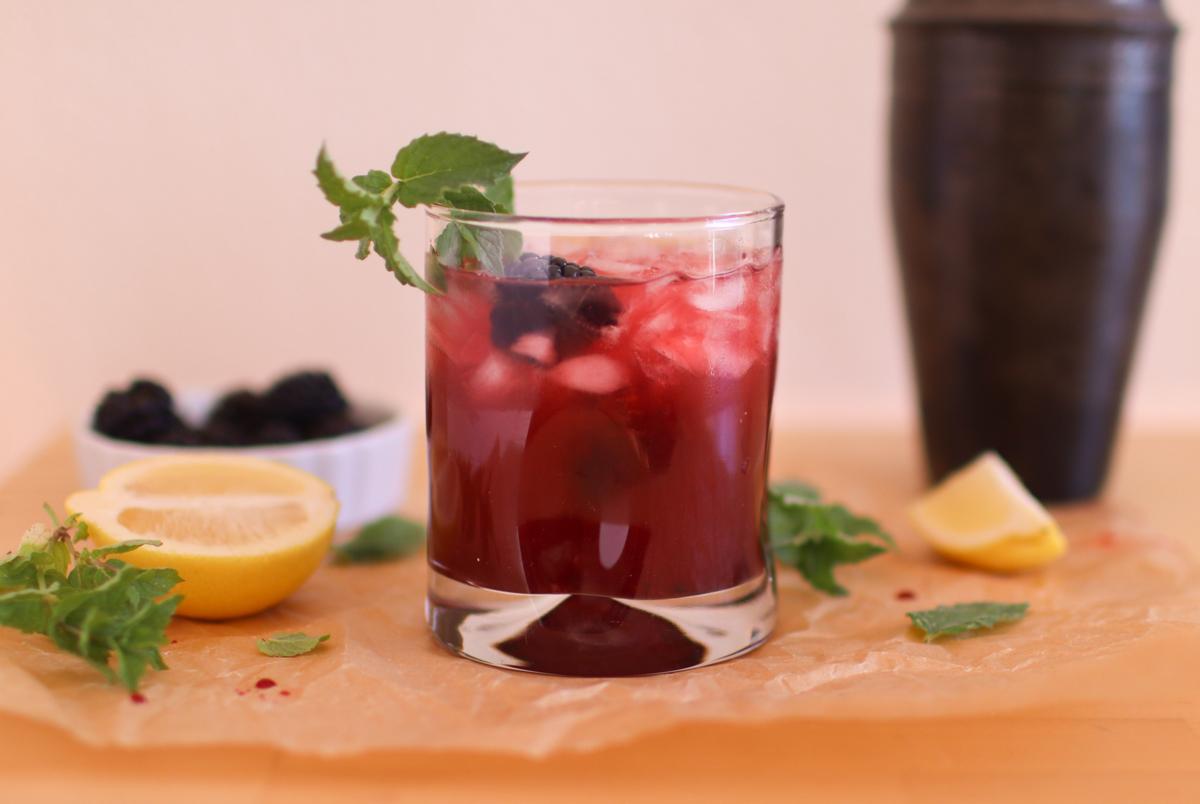 It doesn't get better than blackberry season! This time of year, I like to see just how many ways I can enjoy this seasonal delight. During the day that means blackberry iced tea but when happy hour rolls around, you can't go wrong with a blackberry cocktail.
This delicious fruity cocktail is refreshing, flavorful, and visually appealing. It comes together in just a few minutes and is perfect for a hot summer day!
Why You'll Love It
Flavorful: This cocktail is a bit of a detour from my regular clear liquor cocktails and I love how the flavor of the bourbon mixes with the juicy blackberries. The honey blackberry syrup, lemon, and mint complement each other perfectly for one well-rounded beverage.
Easy: I love a simple cocktail with very few steps to make it! This blackberry bourbon smash is super easy and comes together in just a couple of minutes.
Beautiful: It's hard to beat the color of this blackberry bourbon smash! Colorful cocktails just taste better. Toss in a couple of garnishes and you have the most beautiful cocktail!
What's a Bourbon Smash?
A bourbon smash is a cocktail containing bourbon, mint, lemon, simple syrup, and sometimes a bit of soda water. Oftentimes, bourbon smashes will contain another fruit, like this blackberry smash. You may notice that bourbon smashes are very similar to a mint julep, but the incorporation of lemon and other fruit is what sets them apart.
This post contains affiliate links. If you make a purchase through the links, I will earn a small commission at no cost to you. As an Amazon Associate, I earn from qualifying purchases. Read my full disclosure here.
Ingredients
Bourbon: Grab your favorite bourbon so you love this drink even more. Keep in mind that high-quality bourbon will always taste better.
Lemon: Fresh lemon juice adds the acidity and brightness we love in a good cocktail! Feel free to substitute fresh lime juice if you like.
Blackberries: Fresh blackberries are best, but you can also use thawed frozen blackberries.
Simple syrup: I recommend using this delicious blackberry syrup for cocktails, but you can also use regular unflavored syrup or any liquid sweetener you prefer (maple syrup is delicious).
Mint: You can use homegrown mint leaves or buy fresh mint at the grocery store. Be sure to grab an extra mint sprig for a garnish!
Seltzer water: This is optional, but I much prefer to add it. Make your own seltzer water with a SodaStream or buy canned.
What Kind of Ice for a Bourbon Smash?
Crushed ice is the traditional choice for a bourbon smash. If you don't have a crushed ice function on your refrigerator, you can run it through a blender or smash it in a plastic bag. There are also many unique ice trays on the market for cocktails, like this pebble ice tray or this ice ball tray.
How to Make It
Toss fresh mint leaves in a cocktail shaker and muddle them to release the oil (and the flavor!).
Add the blackberries and lemon wedges and muddle some more. Once your lemons have released all of their juice and the blackberries are pulverized, you can move on to the next step.
Add the bourbon, syrup, and a handful of ice cubes to the cocktail shaker with the muddled ingredients. Place the lid of the shaker on top and shake well until the drink is icy cold.
Strain the liquid out of the shaker and into a serving glass. Add fresh crushed ice and a splash of seltzer water.
Garnish with a sprig of mint, fresh blackberries, or lemon slices and enjoy.
Serving Glass for a Bourbon Smash
The best serving glass for a bourbon smash is a lowball glass (also called a whiskey glass or a rocks glass). You can simply use the juice glasses that come in a glassware set or have a special set of whiskey glasses on hand. Here are a few of my favorite lowball cocktail glasses:
Variations
Use another type of fresh berries for a slightly different flavor. Raspberries would be delicious!
Make it with fresh lime juice instead of lemon juice. I've tried both ways and they are both delicious.
Use different seasonal fruit. You can make bourbon smashes with peaches, cherries, mango, and more.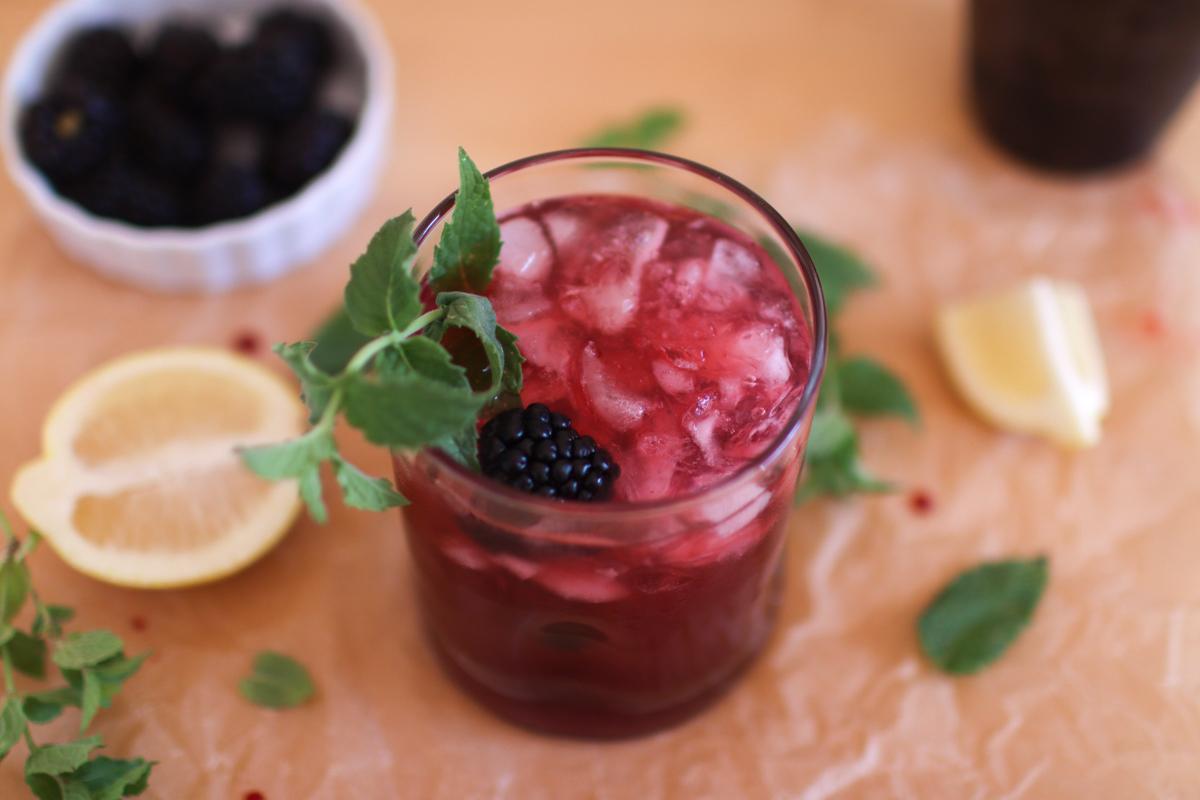 Frequently Asked Questions
Can I make this a mocktail?
Sure! If you omit the bourbon, this will be a lovely lemon blackberry mocktail. Feel free to add a splash of fruit juice or ginger ale for even more flavor.
Can I use store-bought blackberry syrup?
Sure! If you want to make this easy cocktail even easier, you can use blackberry syrup from a bottle. I like this one because it has simple ingredients.
Do I need cocktail tools to make this?
While a cocktail shaker, muddler, and jigger make this process a bit easier, you don't need any special equipment to make this cocktail. You can shake the cocktail in a mason jar, muddle with the end of a wooden spoon, and measure with tablespoons (one tablespoon is equal to ½ an ounce).