Fall Oatmeal Recipe: Pumpkin Spice Oats with Apple + Pecans
This fall oatmeal recipe is the perfect cozy breakfast for autumn! With pumpkin puree, fall spices, and crisp, sweet apple, this oatmeal is filling, nutritious, and tasty.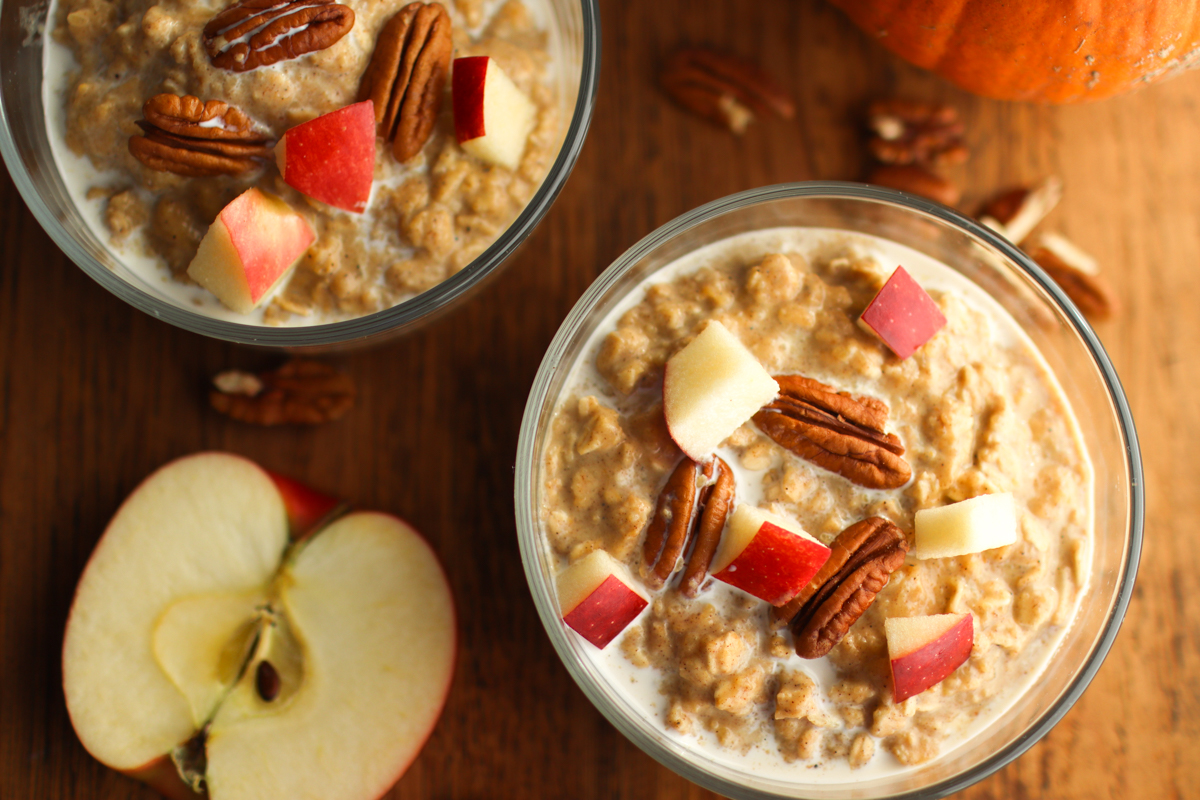 As the mornings get cooler and autumn produce comes into season, I am always looking for warm and cozy breakfast options.
This pumpkin spice oatmeal is one I always come back to! It comes together in under 10 minutes and there is nothing like a warm bowl of oatmeal on a chilly day. This simple recipe is one the whole family will love!
This post contains affiliate links. If you make a purchase through the links, I will earn a small commission at no cost to you. As an Amazon Associate, I earn from qualifying purchases. Read my full disclosure here.
Why You'll Love This Recipe
This pumpkin pie oatmeal is the perfect way to use up leftover pumpkin puree!
With pumpkin, spices, pecans, maple, and apples, this oatmeal combines all of the best fall flavors in one nourishing breakfast.
It's made with wholesome, simple ingredients.
The perfect quick breakfast, this stovetop oatmeal recipe comes together in under 10 minutes!
Ingredients
Old-Fashioned Oats: Be sure to use old-fashioned oats and not quick oats.
Milk: This makes for the perfect creamy bowl of oatmeal! To make it dairy-free, substitute the milk with your favorite non-dairy milk such as unsweetened almond milk or oat milk.
Pumpkin Puree: You can use homemade pumpkin puree or puree from a can! Pureed sweet potato or another type of winter squash will work too.
Pure Maple Syrup: We'll add just a touch of sweetness with maple syrup. Brown sugar or honey will work too, but I don't recommend artificial maple syrup.
Pumpkin Pie Spice: Warm spices make this the perfect fall breakfast!
Toasted Pecans: You can buy toasted pecans or follow the directions below to toast them yourself.
Fresh Apples: Any sweet apple will work! I like Gala, Jonagold, or Honeycrisp.
How to Make Pumpkin Oatmeal
Fall Oatmeal On the Stove
Make this fantastic oatmeal on the stove for a quick and easy breakfast!
In a small saucepan, combine the milk, pumpkin puree, and spices. Stir to combine.
Add the oats and stir again. Turn the stove on medium heat and bring the mixture to a simmer. Turn the heat down to low and continue to simmer for 5-7 minutes or until the liquid is absorbed and the oats are completely cooked.
Remove the oatmeal from heat. Add a pinch of salt and maple syrup to taste.
Serve the oatmeal hot topped with pecans and apples.
Fall Overnight Oats
Overnight oats are a great way to meal prep breakfasts and these pumpkin overnight oats are delicious!
Combine the milk, pumpkin, maple syrup, and pumpkin spice in a mason jar.
Stir the mixture well or put a lid on the jar and shake it vigorously. Add the oats and stir until well combined.
Put the jar in the refrigerator for a few hours or overnight. Enjoy the oats cold or heat them the next morning.
Variations
Add some protein: Make this homemade oatmeal even more filling with protein powder, greek yogurt, or nut butter.
Add extra crunch: Give your toppings extra variety with different nuts and seeds. Chia seeds, pepitas, walnuts, or almonds would be delicious.
Add some sweetness: Stir in a handful of chocolate chips or add a dollop of whipped cream to make this pumpkin spice oatmeal extra decadent!
Expert Tips for This Fall Oatmeal Recipe
Use the right oats. If you use quick oats for this recipe, you will end up with a very different texture.
Adjust the liquid. You may find your oatmeal getting thick and gummy, especially if you don't serve it right away. Expect to add more liquid as needed to achieve the perfect consistency.
Cook the oats low and slow. For creamy oatmeal with a great texture, avoid boiling the oats quickly. Simmer the milk slowly to cook the oatmeal.
Feel free to add more toppings! You can't go wrong with oatmeal toppings. Nuts, seeds, fruit, butter, or extra milk will only make this oatmeal even tastier.
Don't skip the salt. Even though it may sound strange or out-of-place, adding just a pinch of salt enhances the flavor of the pumpkin spice oatmeal and makes it taste extra delicious.
Frequently Asked Questions
Can I use steel-cut oats?
You can, but steel-cut oats take much longer to cook and need more liquid. I would start with 3 cups of milk and add more as needed.
Can I prepare the oatmeal in advance?
Yes, this oatmeal is a great meal prep breakfast! You can make overnight oats or cook the oatmeal and then chill it for later.
Store the oatmeal in the fridge in an airtight container for 3-5 days. Reheat it on the stove with a splash of milk or enjoy it cold.
For best results, add the apples and pecans right before serving.
More Fall Recipes You'll Love
Roasted Butternut Squash Bisque
pin it for later!