Easy Pumpkin Puree: How to Cook Fresh Pumpkin 3 Ways
Turn those pumpkins into flavorful pumpkin puree for fall baking and cooking. Learn three easy methods for cooking a fresh pumpkin in the oven, crockpot, and Instant Pot.
Once you've made your own pumpkin puree, you won't want to go back.
Not only is homemade pumpkin puree more affordable, but it is also more flavorful and an easy way to prevent waste from autumn decorations.
Are you wondering how to cook fresh pumpkin? With just a bit of effort and this simple tutorial, you will have enough pumpkin puree to last you the rest of the year!
Jump ahead to what you're looking for:
What Kind of Pumpkin to Use
Any type of pumpkin can be cooked and eaten, but some pumpkins are better than others. For the best flavor and texture, use a pie pumpkin. If you want to use up your decorative pumpkins and give them a second life, feel free to cook them too!
Jack-o-lantern pumpkins and mini decorative pumpkins are typically less sweet and tougher than other pumpkin varieties. The best pumpkins for consumption are sweet pumpkins such as Sugar Pumpkins, Pie Pumpkins, Cinderella, and Jarrahdale.
The only pumpkins that should not be consumed are pumpkins that have been carved, painted, or soaked in bleach water.
This post contains affiliate links. If you make a purchase through the links, I will earn a small commission at no cost to you. As an Amazon Associate, I earn from qualifying purchases. Read my full disclosure here.
How to Cook Fresh Pumpkin in the Oven
Roasting pumpkin in the oven is my favorite way to cook a pumpkin. It works very well, gives the pumpkin a good water content, and brings out the sweetness of the squash.
Begin by washing the pumpkin and cutting off the stem. Using a sharp knife, cut the pumpkin in half from stem to blossom end. Scoop out the seeds and guts with a large spoon and set aside to make roasted pumpkin seeds.
Brush or spray the cut sides of the pumpkin with a thin layer of olive oil. Place the pumpkin halves cut side down on a baking tray lined with parchment paper.
Roast the pumpkin in the oven at 350 degrees for 45-60 minutes. The exact cooking time will depend on the size of the pumpkin, but you will know it's fully cooked when the pumpkin is fork-tender through the skin.
Remove the pumpkin from the oven and allow it to cool.
Scoop the cooked pumpkin flesh out of the skin and into a large bowl. Compost the pumpkin skin.
Puree the cooked pumpkin using a blender, food processor, or food mill. In a pinch, a potato masher will work, but the puree will not be as smooth.
Use the pumpkin puree in baked goods, savory pumpkin dishes, and more, or freeze it for later use. If the puree is too watery, follow the directions below to thicken it.
How to Cook Fresh Pumpkin in a Slow Cooker
Cooking a pumpkin in a crockpot takes much longer than in the oven, but it is very hands-off. If you prefer to set it up and forget about it for several hours, this method is perfect for you.
I cook my pumpkins in a slow cooker on days I won't be home much so I don't have to worry about monitoring the oven for an hour.
Wash the pumpkin and cut the stem off. Cut the pumpkin in half and scoop out the seeds and guts. Make another cut so that the pumpkin is in quarters.
Place the pumpkin quarters in the crockpot skin-side up and pour a cup of water into the pot.
Cook the pumpkin on high for 4-5 hours or until it is fork tender.
Allow the pumpkin to cool completely before scooping the flesh off of the skin and pureeing it in a food processor, blender, or food mill.
Use the pumpkin puree in baked goods, savory pumpkin dishes, and more, or freeze it for later use. If the puree is too watery, follow the directions below to thicken it.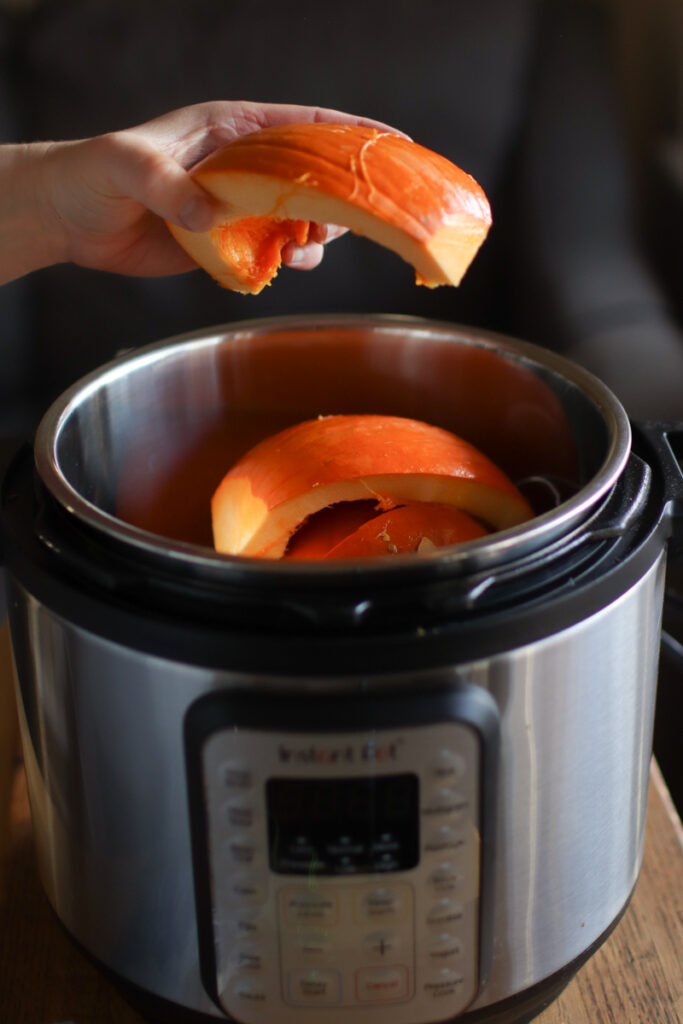 How to Cook Fresh Pumpkin in an Instant Pot
Cooking a pumpkin in the Instant Pot is a great way to have fresh pumpkin puree fast. While you are limited in how much puree you can make due to the size of the Instant Pot, this is great for when you're in a hurry.
Wash the pumpkin and cut the stem off. Slice the pumpkin in half and scoop out the guts and seeds. Cut the pumpkin into quarters if needed for it to fit inside your Instant Pot.
Place the trivet accessory in the inner pot of your Instant Pot. Add a cup of water, then place the pumpkin pieces on top of the trivet skin side up.
Secure the lid and pressure cook the pumpkin on high for 12 minutes. Release the steam valve and check the pumpkin. If it is tender and fully cooked, allow it to cool. If the pumpkin is still tough, pressure cook it for another 3-4 minutes.
Puree the cooled pumpkin in a food processor, blender, or food mill until smooth.
Using this method, you will probably need to remove some of the water content of the pumpkin puree. I've found that cooking pumpkin in the Instant Pot produces much more watery puree than oven-cooked pumpkin.
Use the pumpkin puree in baked goods, savory pumpkin dishes, and more, or freeze it for later use.
How to Thicken Pumpkin Puree
Depending on the pumpkin, you may notice that your pumpkin puree is more watery than canned pumpkin. This can be a problem if you use your pumpkin in baking recipes.
If you need to lessen the water content of your pumpkin puree, there are a couple of ways to accomplish this.
Strain the pumpkin with a cheesecloth. Lay a cheesecloth or clean tea towel in the bowl of a colander or a food strainer and pour the pumpkin puree into it. Allow the pumpkin to drain naturally for a few hours or wrap the cheesecloth tightly around it and squeeze excess liquid out.
Reduce the pumpkin on the stove. Pour the pumpkin puree into a small saucepan and bring it to a simmer. Continue simmering over low heat, stirring consistently to prevent burning. Continue this until the excess water boils off and the pumpkin puree reaches your desired consistency.
How to Freeze Pumpkin Puree
Pumpkin puree freezes very well, enabling you to preserve it for over a year.
To freeze homemade puree, allow it to cool completely first. For best results, keep it in the fridge overnight so it is cold before putting it in the freezer.
Scoop the pumpkin puree into airtight containers such as a mason jar or a ziplock bag. I like to freeze the pumpkin in two cup portions so I have a can's worth already measured out.
If using a jar, be sure to leave 2-3 inches of headspace to avoid breakage as the puree expands.
Label the container with the date and contents and store it in the freezer for a year or more.
To use frozen pumpkin puree, transfer it to the fridge to thaw overnight and use it as usual. In a pinch, you can defrost it in the microwave.
Uses for Homemade Pumpkin
Pumpkin is such a versatile vegetable that tastes great in sweet and savory recipes. You can add it to a variety of dishes for extra flavor and nutrition.
Here are some of my favorite uses for homemade pumpkin puree:
Homemade pumpkin pie (it is even more flavorful with fresh pumpkin puree!)
Creamy pumpkin soup
Autumn Harvest Soup
Pumpkin bread and muffins
Pumpkin oatmeal
Pumpkin mac and cheese or pasta sauce
Mix it in with mashed potatoes
Pumpkin rolls
Pumpkin desserts such as cheesecake, ice cream, and cookies
Frequently Asked Questions
Is homemade pumpkin puree the same as canned pumpkin?
Yes, 100% pure canned pumpkin is simply pumpkin puree. Note the distinction between canned pumpkin and canned pumpkin pie filling.
Homemade pumpkin puree may vary from canned in color and consistency. It also usually tastes better!
Do you need to peel a pumpkin before cooking it?
No, you don't. While pumpkin peel is not edible, peeling a raw pumpkin is very challenging and can be dangerous. It's easiest to cook a pumpkin in its peel and then remove the flesh from the skin once it is cooked.
More Simple Tutorials