How to Dry Parsley in the Oven: Easy Step-by-Step Guide
Learn how to dry fresh parsley in the oven to preserve it for later. Using any of these three easy methods to dry parsley is a great way to make it last for months to come.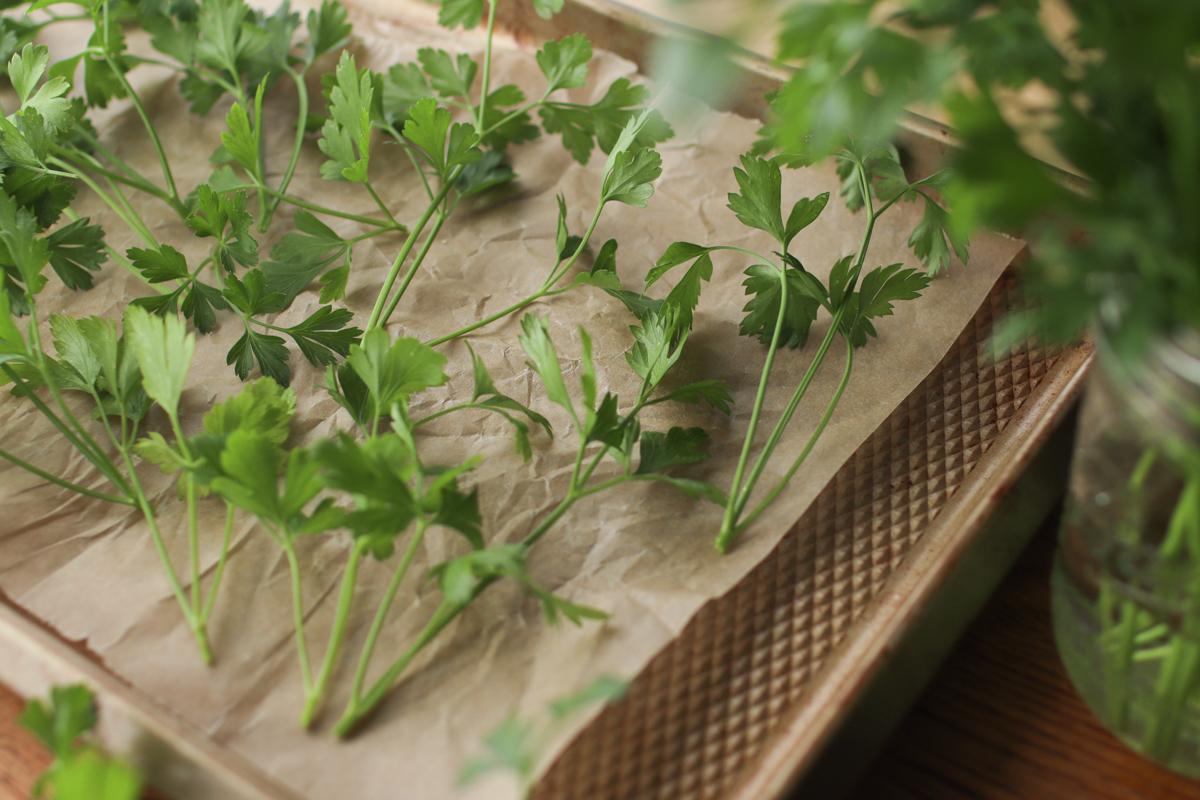 If you've ever enjoyed a freshly made chimichurri, tabbouleh, or another meal made with fresh parsley, you know why this flavorful herb is so popular. Parsley adds a fresh, peppery, earthy flavor to a variety of dishes and it's a great ingredient to add to homemade fire cider.
Growing your own parsley is very easy, too. So easy, in fact, that you may find yourself with a lot of parsley and not enough time to use it up. Preserving parsley is a fantastic way to prevent waste and enjoy your homegrown herbs throughout the winter.
Drying parsley in the oven is a fast and easy preservation method, but it isn't the only way. You can dry parsley with three different methods, depending on your time, equipment, and space available. We'll go through how to dry in each of the three methods so you can try them all!
If you'd like to jump ahead, click on the links below: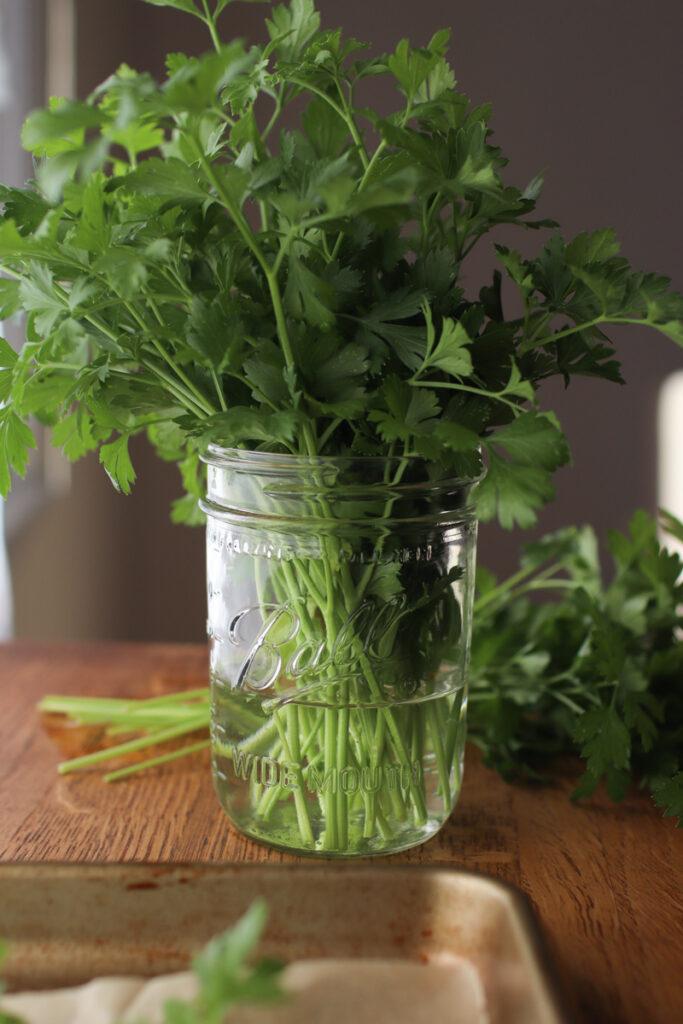 How to Harvest Parsley
Harvesting parsley from your herb garden is very easy, but there are a few things you should know.
If you find yourself at the end of the growing season and just want to harvest all of your parsley, you can simply cut the stems right above the soil level and gather all of the parsley you can.
If it's the middle of the gardening season, however, you want to use the "cut and come again" method to ensure there will be more parsley for you to harvest later on.
Cut the outer stems of the parsley plants first. Choose stems that are at least six inches tall.
Be careful to only harvest ⅓ of the plant at a time. I recommend growing several parsley plants and removing just the outermost layer of stems each time you harvest.
Once you have harvested your parsley, rinse it under cold water and dry the excess water in a salad spinner before moving on to the drying method of your choice.
How to Store Fresh Parsley
I don't know about you, but I frequently harvest parsley (or buy it from the grocery store) only to run out of time to use it or preserve it that same day.
I've tried a lot of different methods of keeping parsley fresh, and I've found it's best to store it in water.
With parsley fresh from the garden, place the stems in a jar or vase filled with cool water and set it on the counter. Refresh the water as needed and use your parsley before it yellows. Yellow parsley is still edible, but less visually appealing.
With parsley from the store, I prefer to refrigerate it. Place the bunch of parsley in a jar of cool water and cover the leaves with the plastic produce bag. Store the parsley in the fridge, adding more water as needed.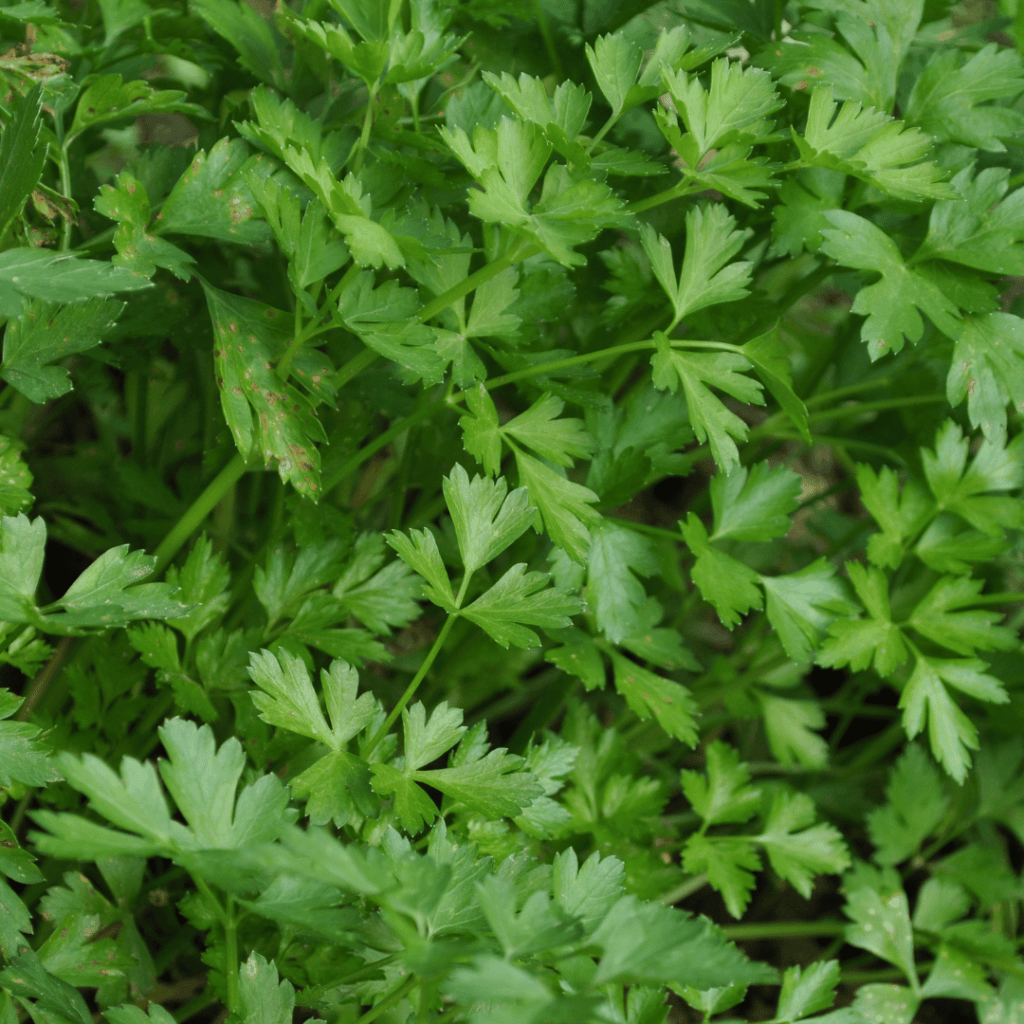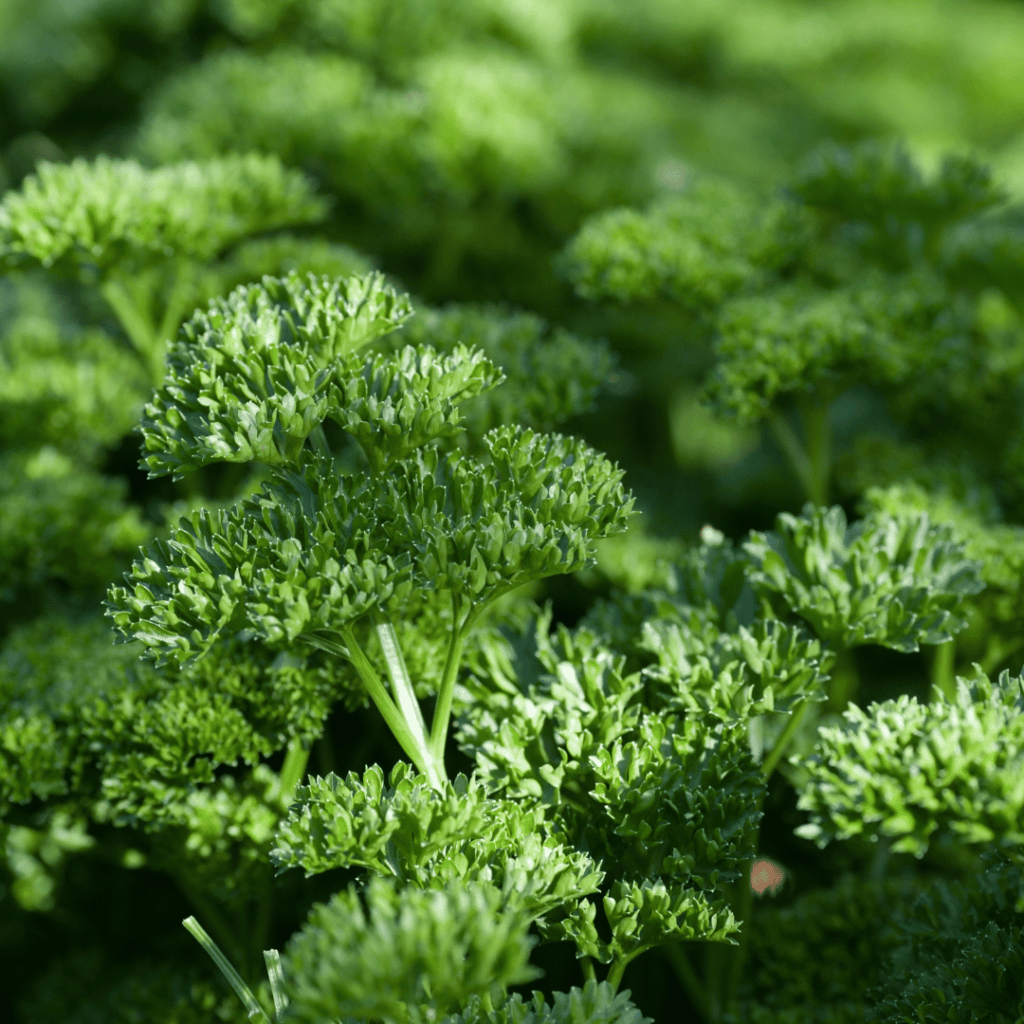 Types of Parsley
If you've seen parsley in a video or photo and it doesn't look like the parsley in your garden, don't worry. There are two common types of parsley and they are both delicious!
Curly parsley is more commonly found in grocery stores. It is a darker green color and each leaf has frills going around the edge of it. It is also common as a garnish because of the intricate leaves.
Flat-leaf parsley is less common to purchase, but it is a popular choice among gardeners. Flat-leaf parsley is characterized by a lighter green color and flat 9-point leaves that resemble cilantro.
Many say that flat-leaf parsley is more flavorful than curly-leaf parsley, but both have their place in the kitchen. Consider the textural and visual difference as it applies to a dish you're making, or use whichever one you have on hand.
Both types of parsley can be dried to keep in the spice cabinet for later. Let's dive into how to do that!
This post contains affiliate links. If you make a purchase through the links, I will earn a small commission at no cost to you. As an Amazon Associate, I earn from qualifying purchases. Read my full disclosure here.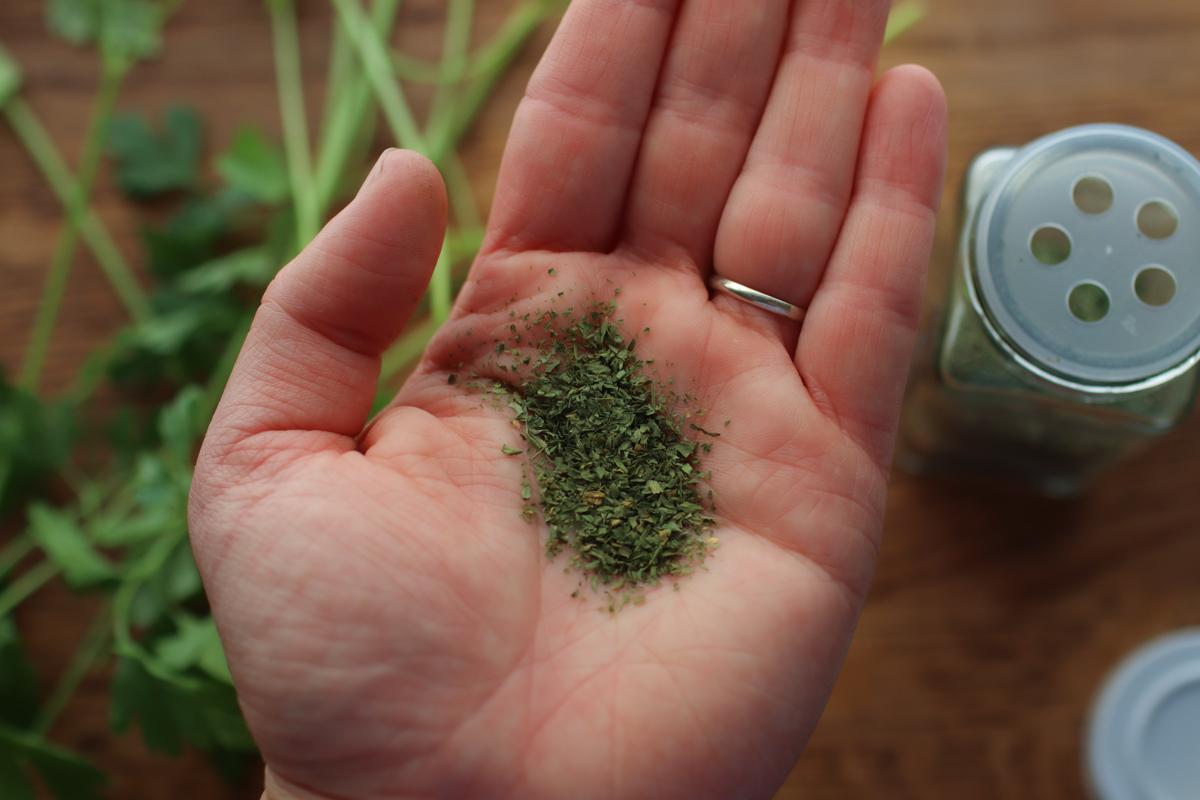 How to Dry Parsley in the Oven (Step-by-Step Instructions)
Oven drying is an incredibly effective and fast way to dry parsley. You can preserve parsley in about an hour without special equipment using this method. Oven drying also preserves the color and flavor of the herb well. However, It requires attentiveness to ensure that the parsley doesn't burn.
Remove excess stems from the parsley and spread the leaves out in a single layer on a parchment paper-lined baking tray. Alternatively, you can place an oven-safe cooling rack on a baking sheet and arrange the parsley on the rack to enhance airflow for even drying.
Preheat your oven to the lowest temperature setting (I set mine to 180°F) and put the tray of parsley inside. Keep the oven door slightly ajar using a wooden spoon to allow excess moisture to escape and promote drying.
After 30 minutes, inspect the parsley. It should be dry and crispy but not brown. If the leaves still feel pliable or moist, continue drying them for more time. Check the parsley leaves every 15 minutes to avoid overcooking.
Once the parsley is thoroughly dried, take it out of the oven and allow it to cool completely. Strip the leaves off of each stem and crush them before storing.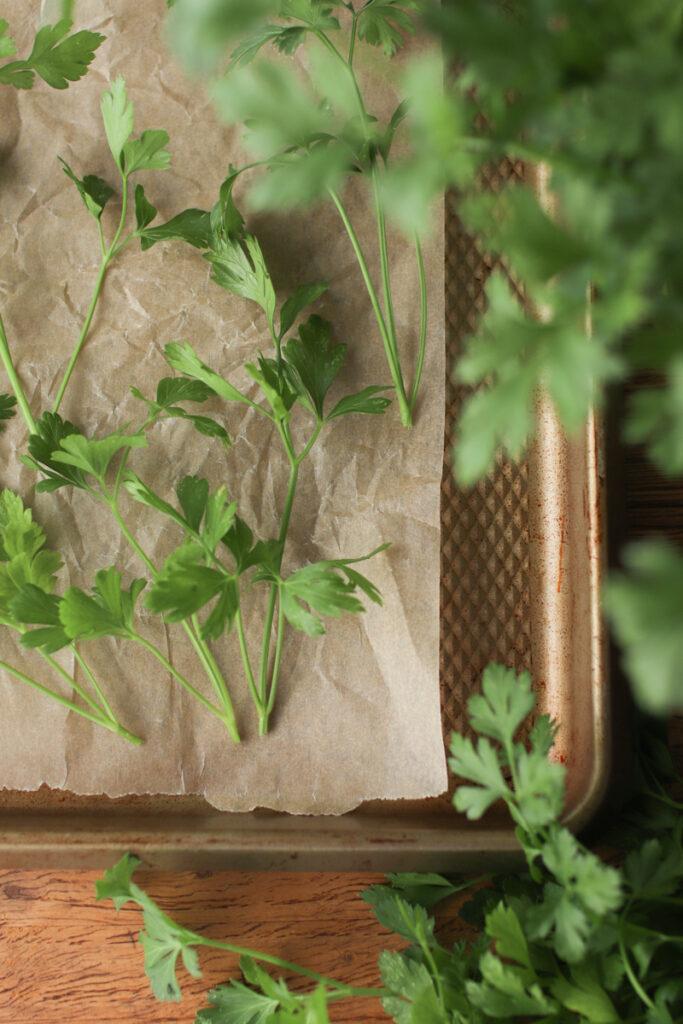 How to Air Dry Parsley
Air-drying is a wonderful way to dry parsley because it is hands-off and there is no risk of burning. It does require some space, so it may not be the best option for everyone. Air drying works best in dry climates, but it can be done in most areas.
Parsley can be hung to dry anywhere you find space as long as it is not up against a wall. Hang your parsley from the rod in an empty closet, off the edge of a shelf, or from a folding rack (I use one of these and love it).
After rinsing and spinning the parsley, gather it into small bunches, tying the stems together with a rubber band.
Hang the bunches of parsley stems in a dark place out of direct sunlight. Ensure proper airflow between bunches and avoid hanging the bunches up against a wall.
Allow the parsley to hang until dry and crunchy, usually around 2-4 weeks.
Strip the leaves off the stems and crunch them into smaller pieces before storing them long-term.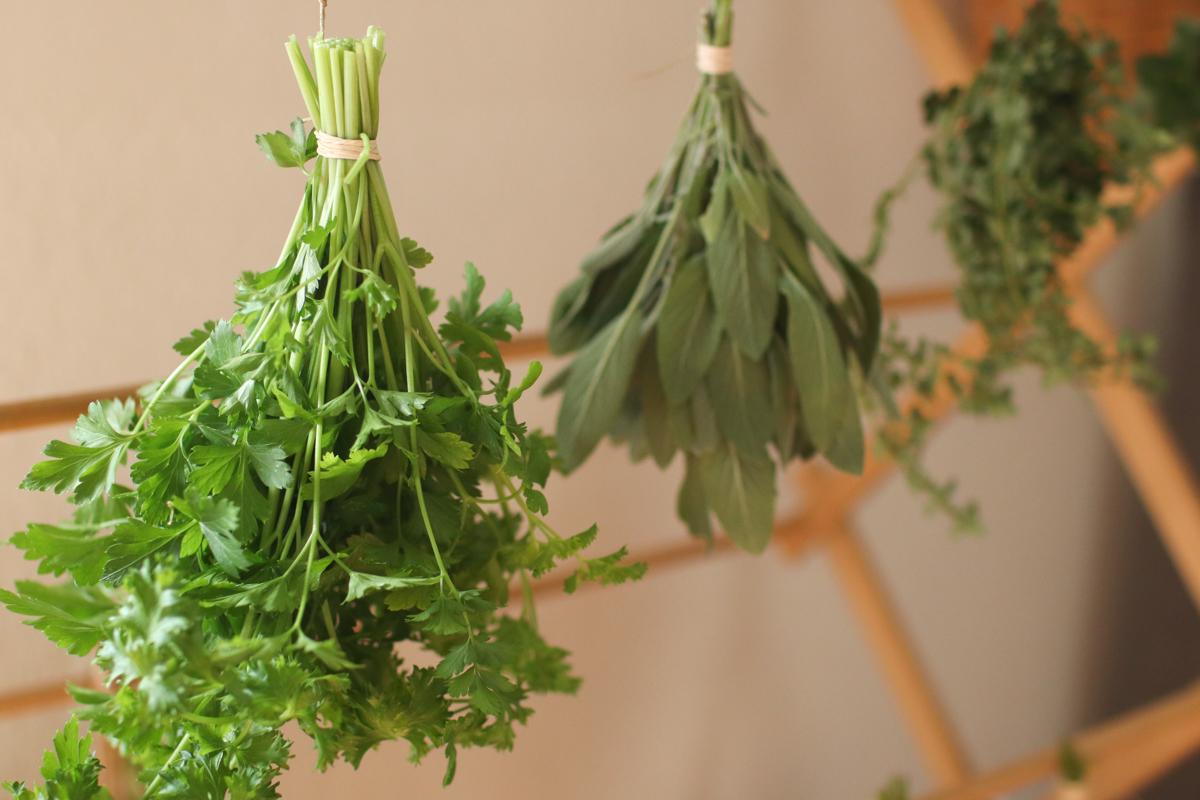 How to Dry Parsley in a Food Dehydrator
Food dehydrators are an excellent tool for drying herbs and other food quickly and easily. They are an investment that may not be worthwhile to everyone. However, if you already have a dehydrator, it is a great method for drying parsley.
After rinsing and spinning the fresh parsley, cut off excess stems and lay the remaining parsley sprigs out onto dehydrator trays.
Set the dehydrator to a low setting (around 100°F) and place parsley in the dehydrator for 8 hours. Drying time will vary based on a number of factors, but the parsley should be checked regularly after the eight-hour mark.
Once the parsley leaves are dry and brittle, turn off the dehydrator and allow the parsley to cool to room temperature.
Strip the leaves off the stems and crumble them into small bits before packing them away for storage.
How to Store Dried Parsley
Dried parsley is best kept in an airtight container out of direct sunlight. I recommend glass spice jars, mason jars, or a ziptop bag. Be sure to label the containers with a marker or label maker.
Uses for Dried Parsley
Dried parsley is a versatile herb that makes a great addition to a wide variety of dishes! Here are my favorite uses for it:
Use in a variety of cooked dishes such as roasted potatoes, soups, and sauces.
Brew into a healthful herbal tea.
Mix into season salt or homemade herb blends.
Bake into herby homemade crackers.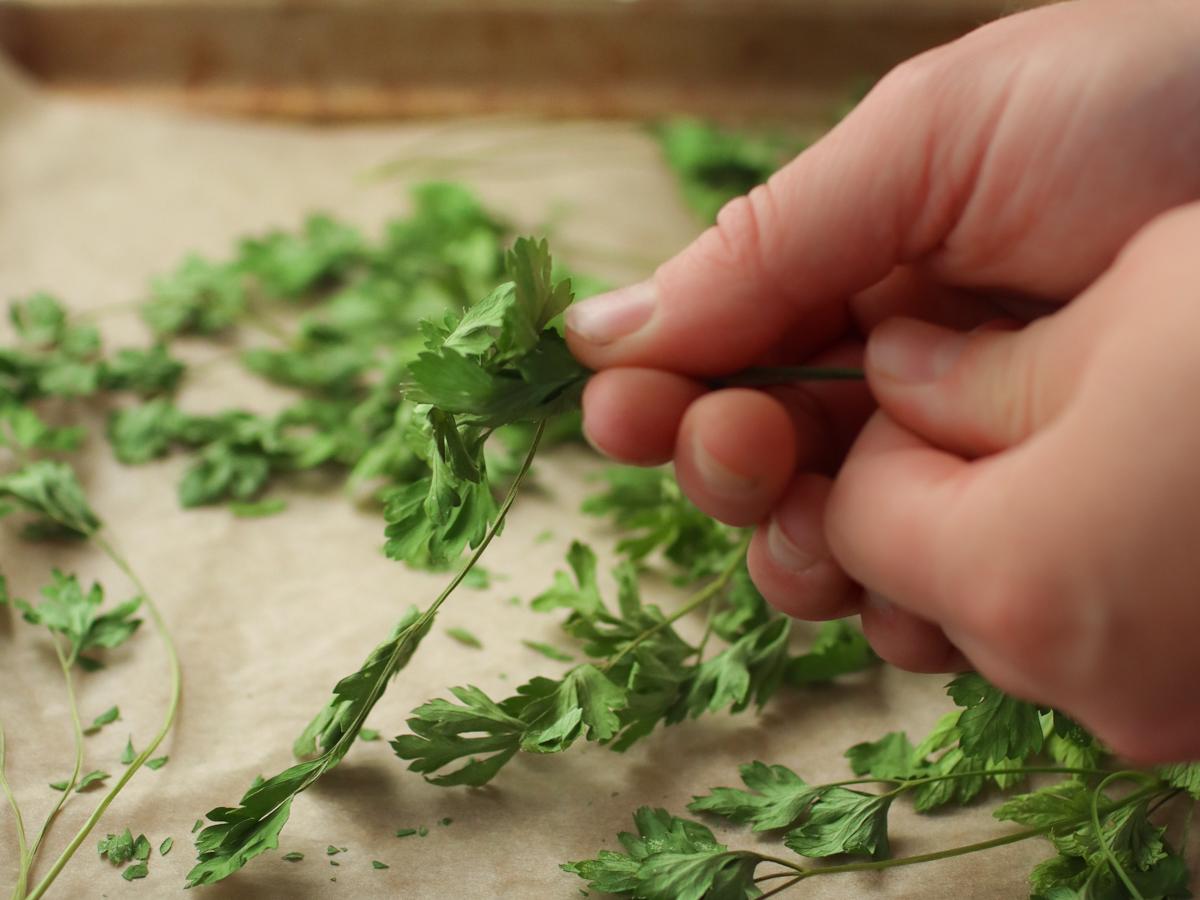 Frequently Asked Questions
How do I use dried parsley instead of fresh parsley?
The general rule of thumb for cooking with herbs is to use a 3:1 ratio of fresh herbs to dried herbs. This means that for a recipe calling for 3 tablespoons of fresh parsley, you would want to use 1 tablespoon of dried parsley. This is because the flavor is more concentrated in dry herbs.
Keep in mind that dried herbs lose flavor over time, so you may need to use less freshly dried parsley or more if it has been in the cupboard for a while.
How long is dried parsley good for?
The shelf life of dried parsley is indefinite, but it will taste the best if used within a year. I like to grow and dry a fresh batch of parsley every fall to replenish my spice cupboard.
Can I freeze parsley instead of drying it?
Freezing parsley is a valid way to preserve it, but it will yield different results. Frozen parsley will be similar to wilted fresh parsley when it has thawed. I recommend using frozen parsley only for cooked dishes by tossing frozen parsley leaves directly into a hot dish without defrosting first.
To freeze fresh parsley, wash it and spin it in a salad spinner. Pack the leaves into a freezer bag and store them in the freezer until use.
Learn How to Dry More Herbs
Keep the preservation going with these other simple guides!